It was a scene most often reserved for Hollywood: a red carpet, television cameras and lights, papparazzi and autograph seekers, and limosines.
Last night, the Towne Line Lanes and Rayn Nightclub in Malden served as Hollywood-East, as many of the Who's Who in Boston sports and sports media, along with a couple of Hollywood celebs, turned out for The First Annual "Beckett Bowl" to benefit The Josh Beckett Foundation and Children's Hospital Boston.
The celebs were slow to arrive due to rush hour traffic issues and roadway construction… but most of those who committed to attend did eventually arrive, and once things got rolling everyone in attendance had an amazing experience. Corporations spent as little as $10,000 and as much as $100,000 to sponsor one or two bowling lanes (adorned with corporate logos) and send a bevy of bowlers and guests into the bowling pits… each lane had four sponsor-designated bowlers and one celebrity bowler. Most of the sponsors, bowlers and guests arrived early… and then waited.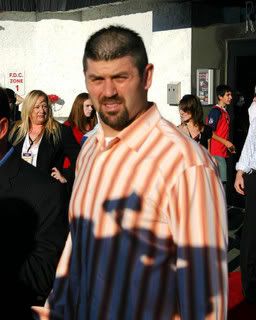 Jason Varitek and I exchanged greetings as he awaited an interview shortly after his arrival…
As if ordained from above, the first celebrity to arrive was the ever-dutiful Jason Varitek—who eschewed the red carpet and pomp, and headed straight into the alleys. As if he were at the ballpark preparing for a game, the officious team captain eventually re-appeared, posed for the perfunctory photo-op, answered questions for the assembled television media, and then disappeared back into Towne Line.
After Tek, the celebrities drifted in slowly—many of them actually arrived late (after the event had begun) due to the traffic issues… Josh Beckett himself attested to the fact that it had taken him almost an hour to travel three miles. But arrive they did…
NESN's Hazel Mae… WEEI's Mike Adams and Jon Meterperel…
Eric Alexander and Larry Anam of the NE Patriots…
Marc Savard, Phil Kessel, Andrew Ference, Patrice Bergeron and Zdeno Chara of the Boston Bruins…
Jon Lester and Royce Clayton of the Red Sox…
USA hockey player / gold medal winner Mike Eruzione…
Leon Powe of the Boston Celtics…
Celebrity chef Michael Schlow…
And then Josh Beckett arrived. He quickly disappeared into the bowling alley (to get his family and friends set)… and then he re-appeared, signed a multitude of autographs, did 'the red carpet thing' with several of the kids from Boston Childrens Hospital, and then went back inside to get things started. Soon thereafter, the 'buzz' in the parking lot increased ten-fold—the King Of Boston had arrived to screams of "P-a-a-p-i-i-i-i !"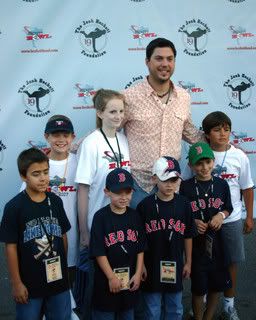 Josh Beckett and some of the children from BCH on the red carpet…
David did not sign any autographs for the fans assembled along barriers in the parking lot… he posed for pictures for the media contingent (myself included) with his lovely wife, Tiffany… he did an interview for the television and radio media, and then disappeared into the building. The last thing he—and everyone in the parking lot—heard before entering the bowling alley was: "I love you, Papi!".
Soon thereafter, most of the media disappeared… the television media had their spots for the 6 o'clock news… the print media was ushered inside for the commencement of activities.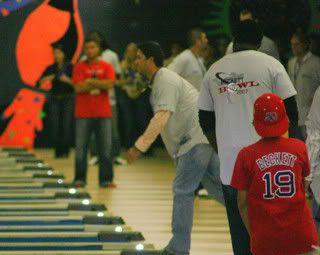 Josh Beckett delivered a first pitch 'strike' to start the proceedings…
As we took pictures of Beckett making his introductory remarks and throwing out the first ball (a strike, by the way), celebrities continued to arrive in a steady stream:
Paul Pierce and Glenn Davis of the Celtics…
Adalius Thomas, Ellis Hobbs and Stephen Neal of the Patriots…
Julio Lugo, Jonathan Papelbon, Kyle Snyder and Javier Lopez of the Red Sox—along with team owners John W. Henry and Tom Werner…
Adrian Grenier and his band-mates from "the Honey Brothers"…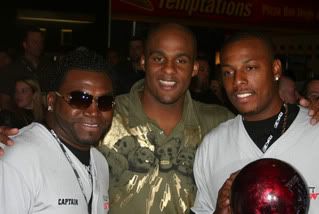 David Ortiz, Glen Davis and Paul Pierce enjoyed a photo op during the proceedings…
I am told that other celebs arrived that I did not see… including actor Jason Biggs and Patriots receiver Randy Moss (who allegedly made a five-minute cameo appearance and quickly exited the premises), among others.
The folks at The Josh Beckett Foundation and Elevate Communications did a truly outstanding job in putting the event together. The young woman from Elevate (Krystal Grube) who coordinated the media operations was an extraordinary asset for those of us at the periphery of the event… she ensured that I had credentials, a spot for my wheelchair and everything else that I may have needed throughout the night. There was complementary—upscale—food and drinks throughout the duration: the good folks at Dunkin Donuts supplied coffee and donuts… Budweiser supplied ice cold Bud and Bud Light in special Red Sox bottles… The Upper Crust provided fabulous pizza and sandwiches.
Once the event began, the atmosphere was festive and a great deal of fun. To a man, the athletes were extraordinary… bowling, schmoozing, taking LOTS of pictures, signing many more autographs, and ensuring that the corporate sponsors and their families and guests felt like they got their moneys worth. And from what I saw, it would be difficult to imagine that ANY sponsor felt cheated by the experience.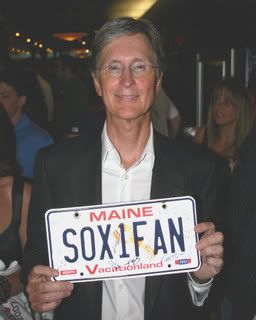 Red Sox owner John W Henry became a member of SOX1FANation during the evening's festivities… as did Tom Werner, Jon Lester, Kyle Snyder, Javier Lopez and former star lefty Bill Lee…
---
Throughout the night, attendees had the opportunity to bid on numerous pieces of memorabilia in a silent auction to raise money for The Beckett Foundation… and then, at the end of the evening, they had the chance to spend even more money on a live auction for some big-ticket items.
I will endeavor to provide a list of some of the items that were sold—with winning bids—in the upcoming days. Needless to say, I could not afford to buy ANYTHING.
But I mention the auction tonight only because I want to give a plug to my newfound friends at the New England Picture Company, in Manchester, NH.
When I entered the alley, I was provided a location at the edge of the staging (where the silent auction items were housed) from which to take my pictures… and after I finished, I took a look at several of the items being auctioned off. Among the items being sold were several autographed Red Sox jerseys that had been beautifully framed and matted… and I do mean BEAUTIFULLY framed and matted! As a memorabilia collector I have seen a lot of nicely framed pieces, but these pieces were as nice—or nicer—than anything I had ever seen before.
Near the end of the evening, the event's emcee (his name escapes me) thanked the folks at New England Picture Company for DONATING the framing for these pieces… now, I'm not a framing expert, but my guess is that there must have been $7,000 – $10,000 worth of framing there.
Those of you who peruse my site with regularity know that I was VERY impressed with the signing event at NE Picture Company a few weeks ago—the one with Fred Lynn, Jim Rice and Dwight Evans. I thought they did an outstanding job with that event, and I was very appreciative of the fact that owner Jeff Sherman made it a point to bring Freddy Lynn over for a personal meet and greet with me in my wheelchair (Jeff kows that Freddy and Pudge Fisk were my boyhood idols).
But now I learn that they also do some of the nicest framing work I have ever seen… and right here in southern NH!
I just hope those of your reading this piece in the northern-MA and southern-NH area have an appreciation for what we have here in our midst… and I hope you will support this great corporate citizen with their business. I, for one, would like to see a business such as NE Picture thrive in this area—bringing our sports heroes north of Boston for autograph events—so that we don't have to drive to Boston or Worcester or the South Shore—and providing a first class framing service.
And there they were last night, the folks from New England Picture Company, standing toe-to-toe with Dunkin Donuts and Budweiser in supporting the Childrens Hospital Boston. It warmed the cockles of my heart… so my hat is off to Jeff Sherman and all of the folks at New England Picture!
---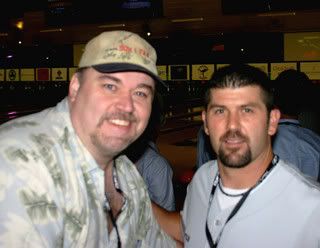 Jason Varitek was one of several Red Sox players who spent their night off helping children… here, 'Tek makes a BIG kid (me) very happy with a picture and a handshake…
NOTE: Hats off to all of the celebrities who took time out of their busy lives and attended the event—especially to those members of our Boston Red Sox who attended. Prior to yesterday, the Sox had enjoyed one day off in nearly a month—ONE! Yet Papi, Tek and the rest of the guys left their homes, their wives and their children in order to spend the night bowling, taking pictures, signing autographs and helping Childrens Hospital Boston. Bravo, guys!
---
Lingering impression of the evening: how big Zdeno Chara is… and how physically imposing he must be on skates… wow!